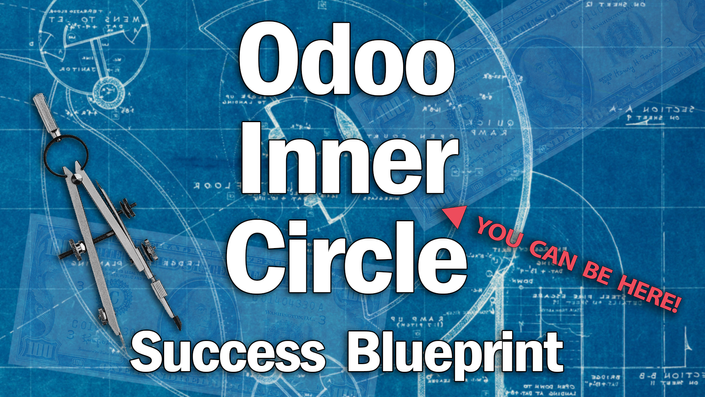 The Odoo Inner Circle
The Odoo Success Blueprint for Achieving Breakthrough Results with Odoo
Welcome to the Odoo Inner Circle
This is the place you want to be when you have decided you are serious about getting massive results with Odoo.
Imagine you are an Odoo Developer, Partner, or Integrator.
It is 10am on a Tuesday and you or your team are trying to solve a particularly difficult functional or technical issue. You search Google, plead on message boards for help, watch some YouTube videos. You look high and low for a solution. But the truth is this. If it was easy to do you would have already done it. The day ends. And you are no closer to solving the problem.
"How did it go today? Are you ready to show us the prototype?" your boss/client asks.
Even though you knew it was coming. Your stomach sinks hearing it. You can feel your body deflate as you reply somberly.
"No. It is going to probably take a few more days," you reply.
Your boss or client may never say it. But they can't help but think you are in over your head.
Maybe you are not the one who can deliver the results they require? Perhaps they are right?

The Odoo Inner Circle to the Rescue
Now, imagine it is 10am on a Tuesday and you have the same problem to solve.
But instead of desperately trying to find your answers through random Internet searches. Now you contact the Odoo Inner Circle.
You explain your problem to the Odoo Inner Circle experts. Within just a matter of minutes, you have expert advice and consultation.
The solution you require is now clear.
Shortly after lunch, you proudly inform your boss/client that you are ready to show them your new solution.
"I knew YOU would figure it out! Way to go!" your boss/client exclaims.

They know without a doubt they have the very best Odoo expert they could ever find.
Deliver Best-in-Class Solutions with the Odoo Inner Circle

With the Odoo Inner Circle, you CONFIDENTLY handle ANY REQUEST!
You are no longer limited to your or your team's functional and technical limitations. Now you have the very best Odoo partners, integrators, and developers on speed dial. Experts who are dedicated to helping you solve any problem related to Odoo.
Even better, with the Odoo Inner Circle by your side, you and your team will Learn Odoo at rates many times faster than you would otherwise. Soon, you and your team have the confidence to tackle any problem. No matter how small. No matter how large.
Breakthrough Results in Record Time
The Odoo Inner Circle is about helping you produce maximum results.
Helping you overcome any technical or functional gaps you or your team currently has.
Wherever you are functionally or technically, the Odoo Inner Circle is designed to help you get your dream job and your dream clients. Instead of worrying about your perceived technical and functional limitations, the Odoo Inner Circle is designed to help you start producing results right away.
Get a Team of Odoo Experts by Your Side with The Odoo Inner Circle
The Odoo Inner Circle is a group of extremely knowledgeable technical and functional consultants. We help you achieve and get past any functional and technical limitations you may have as an individual. When you are part of the Odoo inner circle you can offer resources and skills that go far beyond you or your team's current abilities.
The Odoo Inner Circle was created to be a powerful accelerator for any Odoo consultant or partner.
THIS SOUNDS AMAZING! How do I join the Odoo Inner Circle?
Start Delivering Results Now
You can begin today by clicking the "I Want To Learn More!" button at the top of the page.
I will personally contact you to do a one-on-one strategy session. In this strategy session, we will discuss your current experience with Odoo, your objectives, and what you most hope to get out of the Odoo Inner Circle.

Schedule a strategy session with me using the link below:
Click here to schedule a one-on-one Odoo Inner Circle Strategy Session
If you are ambitious. If you are excited about Odoo. If you want to deliver results in record time. The Odoo Inner Circle is for you. Together we will achieve great things and accomplish far more than any of us could alone!
I look forward to talking with you and how the Odoo Inner Circle can help you deliver amazing results for your company or your clients.
All the best,
Greg Moss, Founder
OdooClass.com
Your Instructor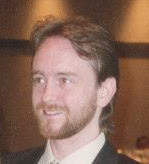 Greg Moss started working with personal computers at 12 years old. At age 15, he wrote his first paid business application, a loan management application for First American Acceptance Corporation. A few months later Greg developed a statistical application to process surveys for John A Logan College. Now more than 30 years later, Greg has produced hundreds of commercial applications and training courses, and has been involved in numerous enterprise application projects.


---
In addition to completing degrees in Business Administration and Information Systems Design, Greg is a Certified Information Systems Auditor, a Six Sigma Black Belt, and holds an Information Assurance Certification from Carnegie Mellon University. In addition to his successful consulting practice, Greg has worked in positions as a Chief Information Officer (CIO), Chief Executive Officer (CEO), and excels in delivering technology-enabled growth to companies. He is an experienced digital marketer and focuses on real-world results and solutions.
Greg is the founder of First Class Ventures, LLC and OdooClass.com. Over the past 8 years Greg has produced over 200 video courses covering business application development and game design.
Greg is the author of Working with Odoo, Working with Odoo 10, Working with Odoo 11, Working with Odoo 12, and Learn Odoo.
Course Curriculum
The Odoo Inner Circle - Success Blueprint
Available in days
days after you enroll